Gin lovers already know that ATLAS is the place to be with their selection of over 1,200 different gin brands! No wonder the bar secured its spot as number 8 on the World's 50 Best Bars list. ATLAS will be using St. George Botanivore – a gin that the artisan distillery claims makes the best Gin and Tonic ever. We won't spoil the surprise, but ATLAS' specially made G&T for Gin Jubilee involves edible bits and jasmine flowers.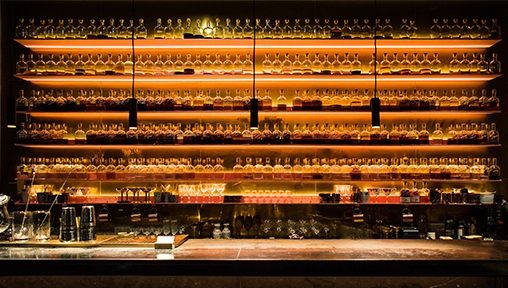 Hidden behind an unmarked black curtain in Marriott at Orchard Road, The Other Room is a nod to the secret drinking establishments of bygone eras. Also one of Asia's Best Bars, The Other Room will be showcasing the up-and-coming Four Pillars Gin which hails from a small distillery in Australia. Made in the heart of the Yarra Valley, the dry gin isn't a traditional London style; it is a blend of modern Australian flavours, with the citrus of Southern Europe combining with the spice of South East Asia.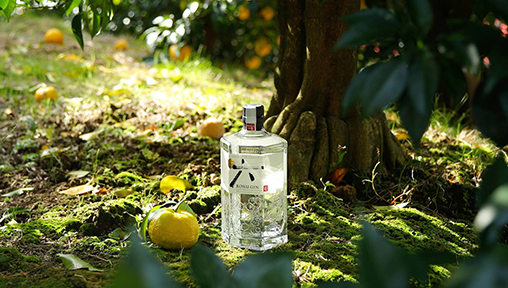 If you haven't heard already, Manhattan Bar at Regent Singapore has been named Asia's Best Bar and is number 3 on the World's 50 Best Bars list. As if you needed any more reasons to visit this bar, but here it is; during Gin Jubilee, the bar will be serving their G&T with the first gin from Japan's legendary Suntory – Roku Gin! The gin is crafted with six Japanese botanicals – Sakura flower, Sakura leaf, Yuzu peel, Sencha tea (green tea), Gyokuro tea (refined green tea) and Sanshō pepper.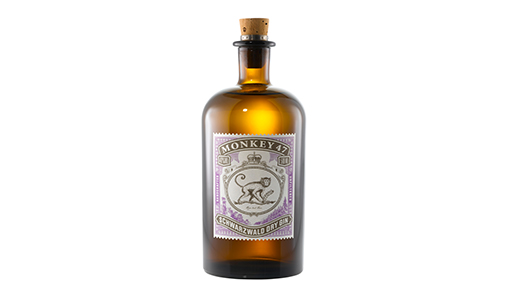 Located at the lobby level, Origin Bar just opened its doors at Shangri-La hotel earlier this year. Their version of G&T will feature the Monkey 47, a gin from Germany. The name comes from its 47 handpicked ingredients – a combination of native Black Forest herbs and berries and exotic Asian botanicals. The Schwarzwald Dry Gin is prepared in extremely soft spring water from the Black Forest. For those of you who have never tried the Monkey 47, the gin has a distinct and pure scent of juniper, a tangy and crisp citrus note, a sweet, floral aroma, a hint of peppery spices, and subtle bitter fruit taste.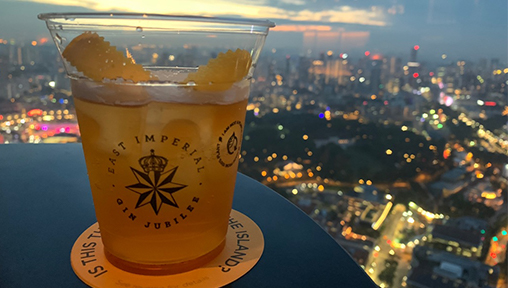 Cocktails with a view? Newly opened SKAI is situated on the 70th floor of Swissotel The Stamford. Head there during sunset hour for iconic city views and a G&T starring the Star of Bombay. Adding a rich new dimension to the original recipe of Bombay Sapphire are ambrette seeds solely sourced from Ecuador and gently dried bergamot orange peel hand-picked in Calabria. It is stronger and exceptionally smooth.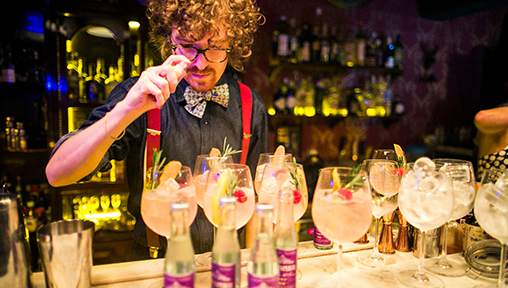 Which is the Best Gin & Tonic in Singapore and in Asia?
During the week, get involved by bar hopping and sampling the G&Ts made especially by this year's participating bars for the festival. Then, vote for your favourite! How? Simply upload a photo of your favourite Gin Jubilee G&T on Instagram with the #GinJubilee2018 hashtag and the bar's location.
This Grand Finale of the East Imperial Gin Jubilee on 8th December will also see the crowning of Asia's Best Gin & Tonic at a showdown between the winners of Auckland, Hong Kong, Shanghai, Beijing, Shenzhen, and Kuala Lumpur.
It's not just the bartenders who win, you can stand to win a trip to Gin Jubilee 2019 Auckland, New Zealand! The best Instagram post of all of Asia Jubilee will be selected by the jubilee panel and the winner will receive a 3-day trip to the Auckland, New Zealand Gin Jubilee 2019.
For more information, visit //ginjubilee.com.